Cooler Trio
Holds up to 30 cans
Introducing our versatile and multipurpose cooler cubes that make packing for your picnic effortless and organized. This trio of cubes is designed to keep your sandwiches, fruits, and other goodies separate, dry, and safe from being crushed by cans and bottles. You can easily fit them into our Big Caddy for a complete picnic solution.
With these cooler cubes, you'll wonder how you ever packed without them. They're durable, lightweight, and perfect for keeping your items cool and organized on the go. Get ready to enjoy a hassle-free picnic experience like never before!
Features
Large Cooler Cube holds 15-12 oz cans
Medium Cooler Cube holds 9-12 oz cans
Small Cooler Cube holds 6-12 oz cans
Cooler Cubes are great for separating those crushable items
Water-repellent exterior
Leak resistant interior
Food grade, antimicrobial heat sealed interior liner
Dual zippered opening to main cooler
Two-tone reinforced web handles
Wipeable exterior and interior
Collapsible for easy storage
Packaged in reusable mesh drawstring bag
Cooler cubes easily nest inside the Big Caddy and This & That Caddy
Dimensions
Large Cooler Cube: 14L x 9.5H x 6W
Med Cooler Cube: 8L x 9.5H x 5W
Small Cooler Cube: 6L x 9.5H x 5W
Materials & Care
Made from wipeable and easy to clean tarpaulin
Food grade heat sealed interior liner
PVC free
Use mild soap and water to clean exterior and interior webbing features
Avoid using cleaners that contain bleach or other harsh chemicals
Towel or air dry
To ensure longevity, we recommend your cooler interior is completely dry and zipper is open before storing in provided reusable mesh bag
Do not place item in the washing machine or dryer
Cooler Trio hace frio!
I love my June Days! I chose the white cooler trio snuggled into the large caddy. We do beach, pool, camping & road trips with our spoiled dog Indy and these components combined together are perfect for us. Dog food, treats and people snacks stay temperate in the smaller coolers. And our beers & bevies stay freezing in the biggie cooler. Which also fits 4 bottles of Prosecco, which I then drank to test it and I was right!
Comfort, ease & longevity in mind.
Helps separate food & drinks easily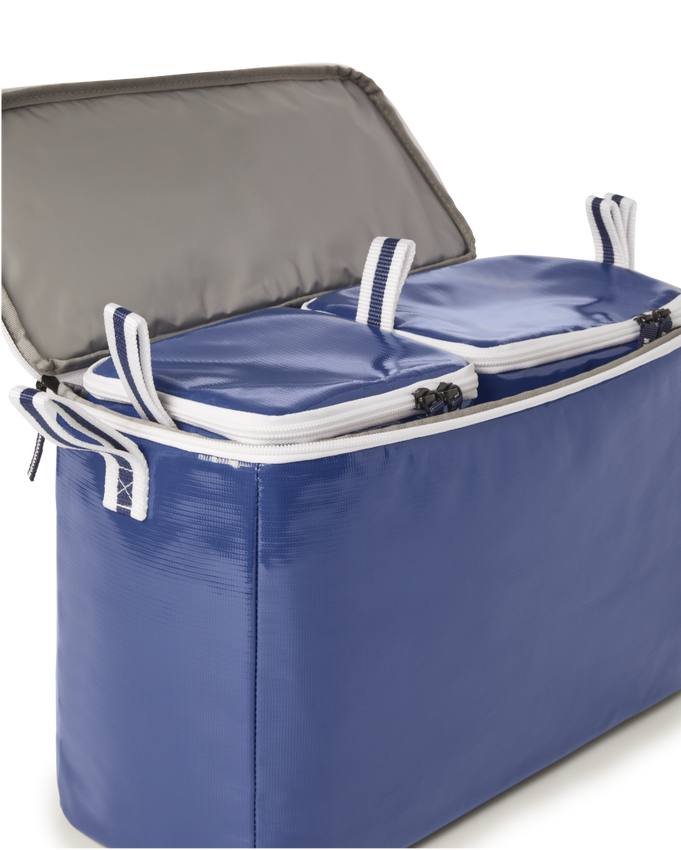 Insulated liner is leakproof and wipeable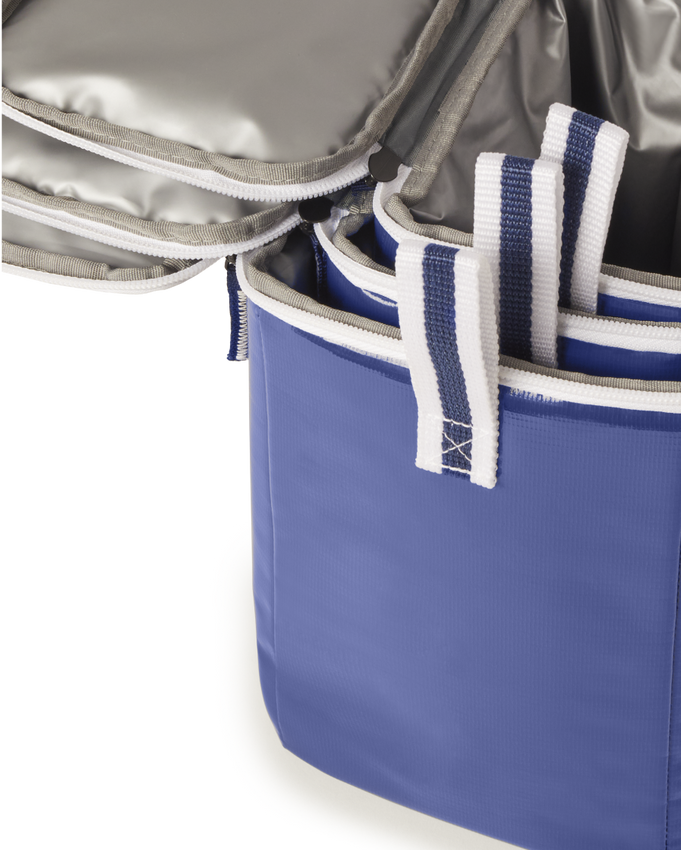 Nest inside each other when not in use
Dual Zipper Pulls for easy access
Ready For Anything You Throw In Them
Keeping the cold things cold, and the dry things dry.
Time to break out the cold refreshments and bask in the glow of another great day outdoors with friends and family.
Ready For Anything You Throw In Them
Color coding - one for drinks, one for food.
Color coding helps organize your things from their things and the important things from extra things.
Ready For Anything You Throw In Them
Water resistant, wipeable and ready for action.
We've got you covered, should you have an inside spill or an outside splash. Just a quick wipe and you're good to go!