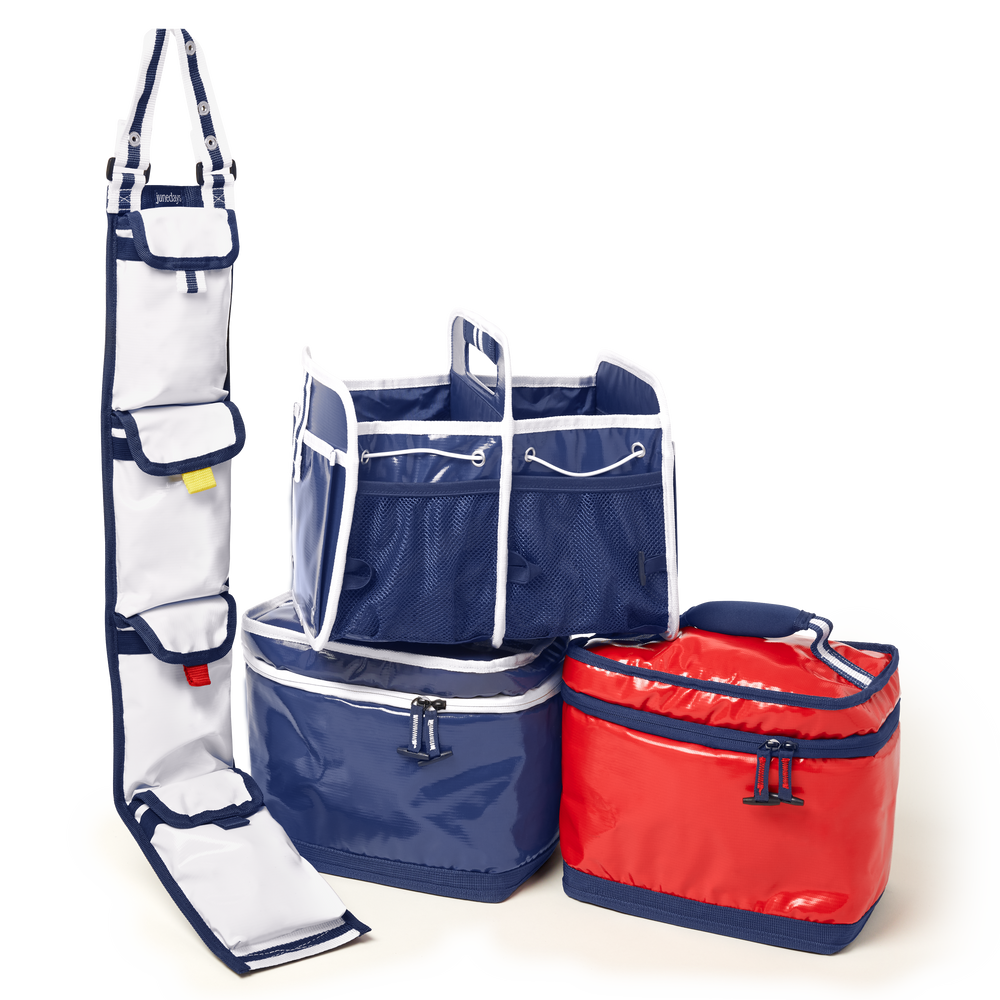 $15 Savings
Buddy System Bundle
Who doesn't need a buddy? This bundle has your back! With four versatile pieces, it's your go-to solution for a great day on the water.
Choose from a variety of cooler colors to enhance your organizational game. Let's not forget, all pieces collapse for easy storage.
With this bundle you receive:
2 Small Coolers

1 Medium Caddy 

1 Tuckaway
3. Select Another Small Cooler
What's Included
Holds 8 - 12 oz cans and an ice pack
Easily nests inside the Big Caddy
Neoprene top grab handle
Dual zippered opening to main cooler
Reinforced two-tone web strapping
1x Medium Caddy Learn More
Interior storage with up to 7 options to pack and store your things: 1 side has X shaped mesh interior organizer creating 4 separate compartments, other side has 2 removable dividers with velcro tabs
Exterior storage has 4 side mesh pockets with bungee detail for cross functional organization and dual front pockets with velcro closure
1x Tuckaway Learn More
4 lidded pockets with velcro closure to store your phone, keys or important ID
Pocket lined with tricot so your phone won't get scratched
Keeps your phone from overheating in the direct sun
Dimensions
Small Cooler: 10.25L x 8.25H x 7.75W
Medium Caddy: 9.5L x 10.5H x 12W
Tuckaway: 4.875W x 29.5H
Materials & Care
Made from wipeable & easy to clean tarpaulin
Food grade PEVA heat sealed liner
Use mild soap & water to clean and towel or air dry 
Avoid using cleaners that contain bleach or other harsh chemicals
Do not place item in the washing machine or dryer
READY FOR ANYTHING YOU THROW IN THEM
Keeping the cold things cold, and the dry things dry.
Packing for the day on the boat is more fun when you are getting it together, together.
READY FOR ANYTHING YOU THROW IN THEM
Free up space and keep important things tucked away.
Your valuables have a safe place of their own, and colored woven tabs help you identify whose things are whose.
READY FOR ANYTHING YOU THROW IN THEM
Water resistant, wipeable and ready for action.
You are one step closer to relaxing when you let our coolers and caddies do the heavy lifting.